Here
Elsewhere
sitharus.com: EMPing
Do you use PowerShop?
Do you have iPhone or iPod Touch?
Get notifications of new products and price changes!
Features
See your balance!
Read your meter!

If you're offline the readings will be saved. You can resubmit when online.

Get notifications of low power balance, new products and changed prices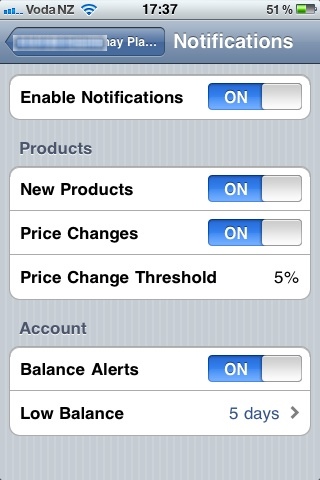 Coming Soon
Full iPad Support
Suggestions? Contact me!
Possible additions
Contact me if you really want these
Notifications to twitter/facebook
FAQs
Can you steal my username and password?
No. Powershop uses a system called OAuth. In summary, Powershop give EMPing a token, EMPing then opens Safari at the Powershop login. Powershop links your account to this token and calls EMPing to reopen.
EMPing can never see your username or password.
How secure is it.
As secure as you keep your iPhone or iPod Touch. All communication over the internet is done using SSL, the same technology that protects online banking sites.
Support
For support email emping at sitharus dot com